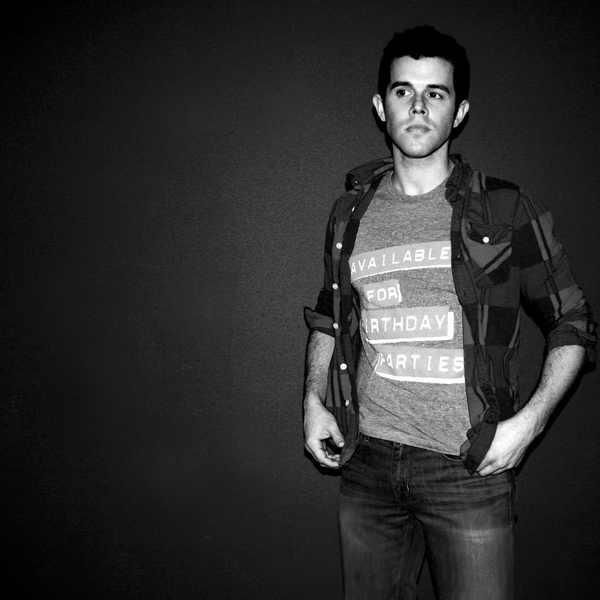 "I FEEL VERY EMOTIONAL WHEN I AM WRITING OR PERFORMING, BIPOLAR EVEN...
...I'm either feeling really sad or I'm feeling really sexy," laughs Chad Mica.  It is this duality that both informs and defines Chad Mica's music. The New York City based singer/songwriter's vocal and writing style can be described best within the contrasts they evoke. The music is a reflection of the artist himself and how he feels as a person. "I feel sensitive and feminine sometimes and other times I feel rugged and masculine. I love contrast; dark and light, polished and torn, organized and unruly, compassionate and cruel-like everything in nature I suppose."
Born in rural Iowa and raised in Minneapolis, Minnesota, Chad Mica's career in the performing arts began at a young age. In a variety show of general song and dance, he performed alongside fellow members of a traveling performance group from elementary school through his high school career. "I sang a bit, but it was dancing--specifically tap dancing--where I excelled.  My vocal training had really come from just singing, all the time, to anything I liked," Chad admitted. "I think my voice has been most influenced by the kind of romantic and slightly dramatic style prevalent in many of the Synth-pop male vocalists of the 80's, blended with a little soul of the R&B artists of the 90's.  
Following high school, Chad left the performing arts and his creative focus shifted to design and architecture. Chad studied Interior Design in Chicago, before moving to New York City where he studied Filmmaking and Production Design. A Renaissance man in his own right, Chad also went on to gain experience in set and costume design, visual merchandising, graphic design and even film directing – more recently Chad designed for various HGTV series, including RHWNJ Dina Manzo's "Dina's Party" and "Color Splash".  
Never straying too far from his roots, all the while he had been writing and recording songs, developing his style and technique under the radar. Chad describes, "Like a closet addict, I lived a dual life. I would spend twelve hours on set, designing for camera and then I would go home, put on my headphones and spend obscene amounts of time in front of a microphone". The people closest to Chad would later agree that with little surprise, when design TV had no longer satisfied his ever-evolving desire to entertain through art, Chad would once again shift his focus back to the very art form that found him at the beginning of his life.
With new-found courage, Chad temporarily relocated to rural Wisconsin in early 2012, where he built a modest recording studio in the basement of his family's home. "I needed the freedom of space, the support of my family and the loyalty that the Midwest region had to offer developing artists." It was here that Chad produced his first EP release, "Jump-start" and where he began to define Chad Mica Music, designing his position in the music industry.  
Chad's background and journey have equipped him with the entrepreneurial tools necessary to get his hands into every aspect of the execution, promotion and branding of his music...and he is not afraid to get them dirty. "I now know that my design experience is absolutely integral to my efforts in exposing my music" says Chad. "I gave up everything, and with very little funds, who else was going to design my website, create my brand, direct my video, design my wardrobe and album cover?" It is this intimacy that keeps Chad's operation genuine and personal--and he wouldn't have it any other way.  
Today Chad continues to captain his ship, paving the way for Chad Mica Music.  Now with 2 albums, several single releases and a spot on the soundtrack for the Netflix released film, "Front Cover" - it's safe to assume much more for Chad Mica moving forward.